Welcome to my Artist's Talk
2023-01-03
Welcome to my blog! I haven't written a blog in a few years, but one of my new year's resolution is to do more writing. Here we go.
I am a professional artist, art instructor and publisher. I have been publishing Island Arts Magazine for 15 years and painting for over 20 years. Wow, that makes me sound vintage! I enjoy life on the west coast of Canada. I am positive (for the most part) and love the simple joys of life.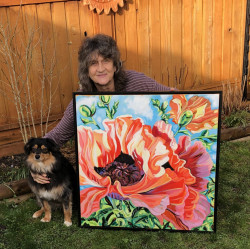 In 2019 we adopted Chace, a mini aussi pup. We think he is perfect! Jeff is wonderful life partner of 21 years, and listens to my ideas and supports my crazy creativeness. It's all good!! And boy are we having FUN!
Happy 2023. What's in store for the new year?
Our snow is all gone and I am walking around the yard, visualizing new garden beds and checking out West Coast Seeds. Jeff has a few grow-op stations set up in the house where we explore growing lettuces, mini tomatoes, hot peppers, etc. Oh how I wish I had a small acreage right now! And the energy to maintain it. But we can do a lot in our suburbia back yard with plenty of raised beds.
I use to be a person who made new year's resolutions and always had a five year plan. Now my plans are limited to 2-3 years out. My resolutions are more personal. This year, I plan to be the best version of myself! I think that is a good goal.
Thank you for reading my blog. Follow me on Facebook.
Check out my online gallery.
Happy New Year!