About the Artist
Susan Schaefer was raised on a farm in central Saskatchewan. She began her passion for colour and art at an early age. After graduating from high school, she headed out west. With an ongoing thirst for artistic knowledge, she attended several classes in painting and design at the University of Alberta while working full time with the Alberta government.
Her first introduction to computer graphic design came in the early 1980's when she enrolled in a summer class at the Emily Carr College of Art & Design in Vancouver. That was one of the pivotal points in her artistic career.
From west to east to Toronto Susan engaged her energy into the world of graphic design. She was eager to learn everything she could about the printing process. She attended night classes while starting a design and publishing company. Many of her clients were artists and art galleries, thus maintaining her involvement in the arts.
In 1999, she returned to Saskatchewan and purchased a home on an acreage in the historical Qu'Appelle Valley. There she started a graphic arts company called Young At Art which continues today. She very quickly became involved with the artists' guilds by organizing art retreats and workshops.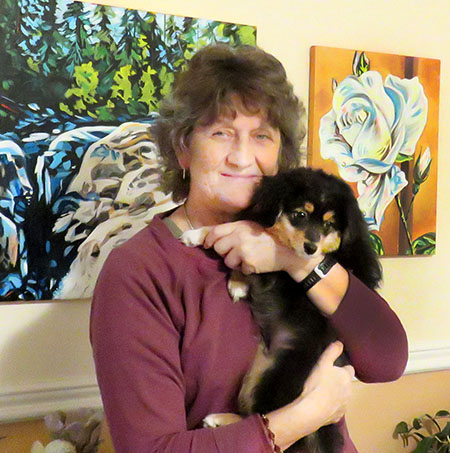 Susan moved to Vancouver Island in 2007 where she established the Island Arts Magazine, a quarterly publication showcasing west coast artists. Now into it's 14th year, the Island Arts Magazine is an online publication, reaching a global audience.

She enjoys teaching art classes, year-round gardening and playing with her mini aussi, Chace. 
"Love what you do…and do what you love." – Dr. John F. Demartini